How to Opt-Out of USSearch in 2022
ussearch opt out guide
This guide was updated Dec. 16, 2022
This site currently is not covered by My Data Removal. We hope you find this ussearch opt out guide helpful!
Note: This is the same process for Intelius, InstantCheckmate, and TruthFinder as they are all under PeopleConnect.
2. Scroll to the bottom of the page. Under SUPPORT, select "Suppress My Public Data".
3. Click "MANAGE SUPPRESSION RULES". This will take you to the Suppression Center of PeopleConnect.us.
4. Enter your primary email address, check the box, and click continue.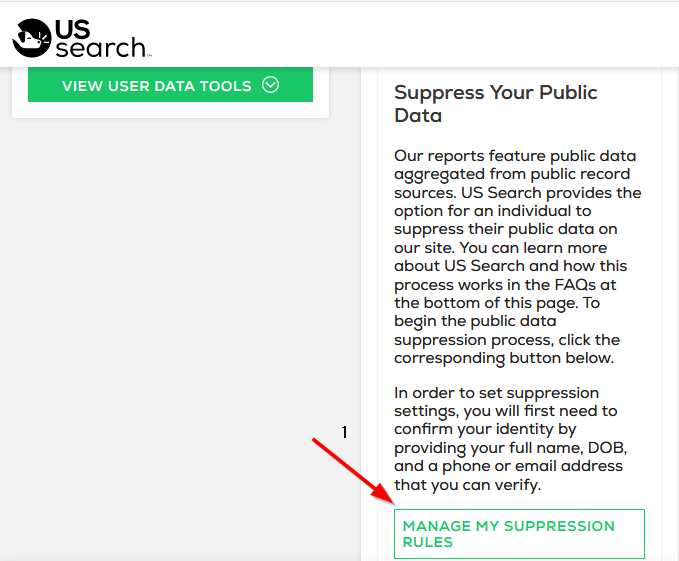 5. Enter your current legal name and check the "This is my legal name" box. If you have used multiple names, click the highlighted text, "add another name". Click continue.
6. Input your birthday. Check the box and click continue. Be careful of typos, as the birthdate cannot be changed once saved.
7. Go to the top of the page and select "Suppression Settings".
8. If there's a verified match, go to the visibility setting dropdown, select "Suppressed", and select "Save".
9. If there are no verified matches, go to the top of the page again and select "Identity".
10. Click the "Edit Identity" button to enter more information, such as additional email addresses, phone numbers, and locations. Select "save", visit the Suppression Settings at the top of the page, and repeat step 8.
11. Success! You have suppressed your data successfully.
If any of this information is out of date, please let us know and we will work to update it.